GeoTeric 2018.1.2
The latest GeoTeric patch contains extensions to our recently released Validate module as well as to the rest of the application.
Wedge Model in Validate
Create a wedge model tied to well markers or independently placed anywhere in the data.
All aspects of the wedge are adjustable.
Go directly to the well on either axis for easy navigation.
Variable Density displays Tuning Curve.
Interactive wedge thickness display beside cursor, so a user can tell what thickness each colour represents.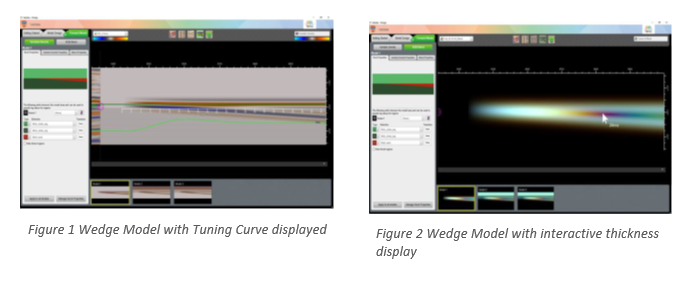 Arbitrary Lines
In the latest version you can also use an Arbitrary Line as an input for your model, allowing you to validate the data between your wells.
Create models based entirely on your well log data
Rock Properties can now be extracted automatically from any wells intersecting your model, and propagated based on the layer boundaries drawn in the model, so there's no need to define rock properties for each region any more: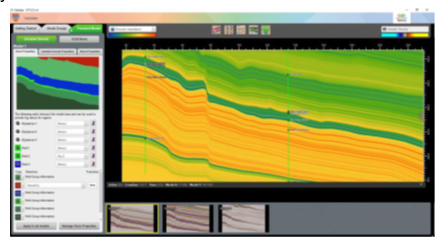 When there are multiple wells in your model, the rock properties will be transitioned between them but will always honour the data exactly at each well's position.
Validate now displays calculated rock properties (AI, SI, Vp/Vs, Poisson's Ratio) for any layer, as well as Vp, Vs and Density when extracted from the well logs.
Other enhancements/bugs fixed in this patch:
We have added wells in more windows:

Wells in base map, either displayed as intersection or top location.
Wells in the 2D interpretation window.
Wells in Spectral Expression, including navigation directly to the well slice.
Wells in Noise Expression, including navigation directly to the well slice.

Interpretation enhancements:

Easier to move a slice in the interpretation window, using either slice player, mouse wheel or page up/down shortcut keys.
Intersections are now shown on z-slices as well as intersections of z-slices shown on vertical slices in interpretation window.
Intersection of fault sticks are now visible in the interpretation window.
Easier edit of fault stick: Right-click on a Fault Stick and choose Edit > will bring slice to stick so you can edit it.

Link for Petrel:

Transfer of Fault surfaces both ways.
Wells now bring across their UWI if set in Petrel.
Transfer logs across to existing wells (when UWI exists or name of well is a direct match).

Other:

Picking Arbitrary Lines on z-slices in 3D scene.
Project tree filtering and search options.
Better quality and performance of all overlays and labels where used in Expression tools.

Bugs resolved:

Link for DSG:

In some circumstances, the volume transferred across to GeoTeric came in flipped, this has now been resolved.

Link for Petrel:

Well logs transferred across now keep their original name.
If users happened to transfer logs that already existed, they now correctly append as an additional log.
Some well log colour maps transferred across with the well logs used to throw an error. This is resolved.
After transfer of logs into GeoTeric and the user tried to rename one of the logs, some of the others would disappear as well. Resolved.

General:

Sometimes when transferring multiple volumes with multiple CRS in one go, the link would crash. Fixed.
Transfer of multiple horizon surfaces to Petrel in one go, caused the link to stop working and the user had to re-open it. This has been resolved.
Fixed an issue whereby after restarting the Link for Petrel it wouldn't transfer any horizons. This now works correctly.
Fixed an issue whereby duplicated fault sets couldn't be edited until after project restart.
The intersection line in the 2D Interpretation window wasn't always in the correct place when you swapped the slices - this is now correct.
If you tried to delete a well whilst the project manager was open GeoTeric would crash.
Changing the source volume in the 2D Slice Viewer when a horizon had been visualised crashed GeoTeric- resolved.
Body Labelling process has been fixed.
Phase volumes created from the Frequency Decomposition tool sometimes produced a blank result.
When using 8bit data and flipping the colour map, the colour table used to stop responding to change. This has been resolved throughout GeoTeric.
IFC+ - when viewing over a horizon, the classification is now correct for all data types.
IFC+ - classification now updates when you alter the post scale values.


Download PDF