Understand Your Reservoir Heterogeneity
Interrogate the geophysical response with intuitive data-driven and semi-supervised tools, while maintaining geological context. Any classified volume honours all your data available, while incorporating your own expert understanding of what is geologically feasible.
Objectives:
Classify GeoTeric's RGB color blends to better understand the distribution of attribute facies
Translate geophysical information into geological meaning by crossplotting attribute & well log data
Ultimately, gain an indepth understanding of your reservoir heterogeneity
Video overview of GeoTeric's Classify Module coming soon...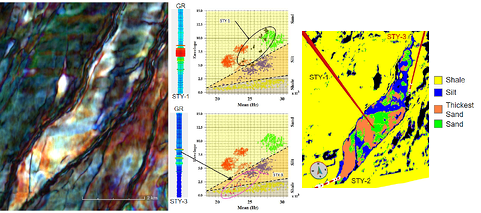 Tools:
Interactive Facies Classification (IFC+)

Integrated Scatterplot Functionality